Bandeau
image

Body
AGLAE, an accredited External Quality Control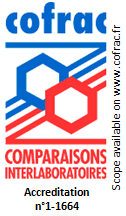 Since 2005, AGLAE has been accredited in compliance with ISO/IEC 17043: 2010 "Conformity assessment - General requirements for proficiency testing" and the Cofrac rules of application for provision of Interlaboratory Comparisons (ILC)  in:
  -  Environment / Water quality - Solid matrices
   - Biology / Microbiology
  - Chemical and biological products, Medical equipments / Bio-active products
AGLAE is accredited under accreditation number 1-1664 in flexible scope.
The general scope of accreditation is available at www.cofrac.fr; check our detailed accreditation scope.
To date, over 90% of the parameters provided are covered by the accreditation.

AGLAE: the benefits of our accreditation
Proficiency testing is widely recognised as an essential tool to demonstrate the competence of conformity assessment organisations. Proficiency testing can provide a proof of competence as well as being an indicator of an underlying or emerging problem. The ISO/IEC 17043 standard specifies the requirements applicable to the organisers of proficiency tests, such as AGLAE, providing proof of its operational competence and its ability to produce valid assessments of participants' performance. Proficiency testing involves the use of interlaboratory comparisons, which objectives are:
The evaluation of laboratory performance, identification of laboratory problems (test methods, effectiveness of staff training, staff supervision, equipment calibration),
The determation of the effectiveness of test methods and comparing test results
The improvement of users' confidence in test results 
 The identification of differences in test results 
The laboratory training 
The validation of claimed uncertainties
This need for ongoing confidence in laboratories performance is essential not only for the laboratories themselves, but also for their customers as well as for regulatory organisations and accreditation bodies.
AGLAE has long since opted for accreditation of its expertise in the field of proficiency testing, first by BELAC in 2003, then by COFRAC since 2005, in accordance with the  ISO 17043 standard, thus providing proof of the competence and impartiality of its proficiency testing activities. COFRAC has European recognition (EA agreements) and international recognition (ILAC), guaranteeing AGLAE's competence in France as well as internationally.