Structure of the Association
Bandeau
image

Body
AGLAE Association
Founded on 16 December 1993 by various laboratories (regional, public, private, industrials, water companies…), the Association aims to improve analyses, especially chemical, microbiological and biological, in the fields of the environment and medical biology.
The structure of the Association
AGLAE, as an Association, comprises a general Assembly, an Administration Board and an Executive Committee, to which a Technical Committee adds. These entities manage the Association from an administrative point of view.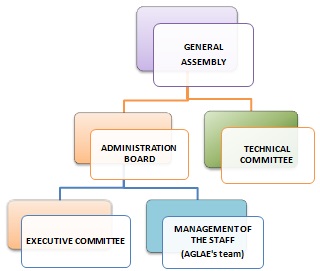 More precisely:
The General Assembly gives the general directions of the Association.
The Administration Board makes the major decisions of management in accordance with the guidelines of the General Assembly. It is elected by the General Assembly.
The Executive Committee is the subgroup of the Administration Board.
The Technical Committee consists of members from the Administration Board, staff members and other people qualified in specific analytical fields.
The team gathers the permanent staff members of the Association.
Find the list of the members of the Administration Board.
Should you wish to join the General Assembly, please contact us.
AGLAE's team
The practical implementation is conducted by permanent staff members: the team, as follows: