Bandeau
image

Body
AGLAE, an accredited External Quality Control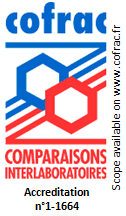 Since 2005, AGLAE has been accredited by the LABORATORIES section in compliance with ISO/IEC 17043 standard "Conformity assessment - General requirements for proficiency testing" and Cofrac rules of application for provision of interlaboratory comparisons (Cofrac: French accreditation body).
90% of the parameters are covered by accreditation.
Some parameters are not operated within the scope of accreditation; they are identified in the description of the different programmes.
Find our global accreditation scope on www.cofrac.fr
Our expertise enables us to include new parameters in our accreditation scope during the year: check our detailed accreditation scope.